---
September 8, 2023 – February 5, 2024
La Chola Poblete: Guaymallén
Deutsche Bank "Artist of the Year" 2023
Guaymallén is a municipality in the province of Mendoza in Argentina. It was here that La Chola Poblete, Deutsche Bank's "Artist of the Year" 2023, was born as Mauricio Poblete in 1989. She grew up here, in her own words, "surrounded by landscapes of olive trees and vineyards, with breathtaking autumn days and the ever-present, Andes mountain range." The exhibition titled Guaymallén is a tribute to her roots, to the time when she was growing up as a non-binary, indigenous teenager, a time when La Chola began to draw, explore art and pop culture, and experiment with her queer identity.
Curated by Britta Färber, Global Head of Art&Culture Deutsche Bank
Today La Chola Poblete is one of the most important Latin American artists. Guaymallén does not lead back to a lost, more "original" time. The show combines biographical and cultural-aesthetic references with fundamental criticism. La Chola engages with the consequences of colonialism and capitalism, especially in the context of the obliteration and stereotyping of indigenous peoples and cultures. In doing so, the artist addresses the historical roles of women and trans people, kinds of femininity that are persecuted and ostracized, or revered and sacrificed by religious and patriarchal ideologies.
In her exhibitions and performances, La Chola creates spaces for mourning, healing, non-binary forms of representation, and beauty. At the same time, she highlights the connection between art institutions and prevailing thought patterns, comparing the role of museums today to churches in the past. Her exhibition is a "church of drawing," La Chola says, a spiritual space filled with queer drawings, images, and symbols. Here, too, stories of virgins, martyrs, and divine action are told, but from a completely different perspective.
A mask made of bread dough in a blue room, followed by walls full of rock band logos, characters, and elements of Argentine mass and fan culture, mingle with mythological symbols of the Andes, while on the floor archaic-looking figures refer to the Nazca lines of the Incas—the gigantic shaded images in the Peruvian desert, visible in their entirety only from the air: Such motifs recur throughout the exhibition, as do the metal lances decorated with monograms and symbols of the Andean peoples, reminiscent of instruments of torture used during the Inquisition. They serve as supports for a cross-shaped installation of watercolors and bread masks, or as the stand for a T-shirt printed with an image of Romulus and Remus's wolf mother.
Hybrid beings are present in La Chola's recent large-scale watercolors, which are covered with an allover of abstract, religious, mythological, and pop-cultural motifs. In many cases, they address the ambivalent figure of the virgin, a leitmotif of the exhibition. Two cabinets, for example, present sculptural versions of a Virgin by La Chola: A figure formed from bread dough on a wooden frame stands in a mountain of potato chips. The potato was domesticated by Andean peoples 8,000 years ago and exported by colonial masters; later it would became the most important staple food in Western industrial nations, and today it is an industrial product perfectly tailored to the needs of consumers. The figure is based on the so-called "vírgenes para vestir": statues of the Virgin Mary, dressed according to the liturgy and carried forward in Catholic processions since the sixteenth century. Her upper body is finely crafted, while her lower body is a simple construction that is re-dressed in line with the occasion. In La Chola, the figure has no definite gender. Pierced by arrows, she stands stoically and appears to be invincible.
The second version of the Virgin is a reclining figure baked from bread dough. It refers to the elaborate, morbidly erotic wax sculptures with hinged abdomens of the sixteenth to eighteenth centuries, known as the "Anatomical Venus." Instead of internal organs, however, La Chola's version features sacred ceramic vessels and bottles, an allusion to the hybridization of indigenous and Catholic culture, but also to alternative means of reproduction.
La Chola's photographic productions are about power and submission: She is flayed by a man as a martyr or suckles young white men as a she-wolf. With their black pants, white shirts, and ties, they are reminiscent of the Mormon "Elders" on their missionary journeys. In La Chola Poblette's artistic cosmos, they embody a current form of colonialism, an amalgamation of capitalism, Christian religion, and white supremacy. The men literally suck them dry. At the same time, they are erotic acts in which strength and emancipation of indigenous and female culture are also manifested. It is precisely because La Chola Poblete's art dispenses with simple explanations and instead reveals diverse, even abysmal connections that it is so important for current debates in a complex world.
Die Deutsche Bank vergibt einmal im Jahr die Auszeichnung "Artist of the Year". "Artist of the Year" ist Englisch und bedeutet "Künstler*in des Jahres". Die Kunstwerke sollen Themen behandeln, die in unserer Gesellschaft aktuell wichtig sind. Die Deutsche Bank zeigt die Kunstwerke dann in einer Ausstellung im PalaisPopulaire und in einem Katalog. So können mehr Menschen diese Künstler*innen kennenlernen. Die Auszeichnung "Artist of the Year" gibt es seit 12 Jahren.
Wer bekommt die Auszeichnung 2023?
In diesem Jahr zeichnet die Deutsche Bank die Bildende Künstlerin und Performerin La Chola Poblete aus. Die Argentinierin setzt sich stark für LGBTQ- und Trans-Rechte ein. LGBTQ ist die Abkürzung für Lesbian, Gay, Bisexual, Transgender und Queer. Das ist Englisch und bedeutet lesbisch, schwul, bisexuell, transgeschlechtlich und nicht-heterosexuell.
La Chola wurde 1989 in Guaymallén im Nordwesten Argentiniens geboren. Ihr Werk besteht aus verschiedenen Medien, zum Beispiel aus Malerei, Video-Kunst und Performances. In ihren Arbeiten beschäftigt sich La Chola zum Beispiel mit diesen Themen, Ereignissen und ihren Folgen besonders für die Menschen in Südamerika:
die Inquisition, also die Verfolgung von andersdenkenden Menschen durch die katholischen Kirche
die Kolonialisierung, also die Eroberung von Gebieten durch fremde Länder
die kapitalistische Wirtschafts- und Gesellschaftsordnung auf der Welt
Dabei sucht La Chola nach neuen Formen von Gemeinschaft, Erinnerung und Widerstand.
Was können Sie in der Ausstellung sehen?
"Guaymallén" ist La Cholas 2. Einzelausstellung in einer Kunsteinrichtung in Europa.
Für diese Ausstellung schafft La Chola mit vielen neuen Arbeiten eine "Kirche der Zeichnung". In diesem "heiligen Raum" vermischen sich Themen und Zeichen aus Religion, Politik, Erotik, Volkskultur und indigenen Völkern. Indigene Völker sind Menschengruppen, die schon vor der Eroberung durch Kolonisatoren in einem Gebiet gelebt haben.
La Chola macht die Schönheit, Grausamkeit und den Protest in der Menschheitsgeschichte sichtbar. Dabei spielen mehrere große Aquarell-Bilder und neue Foto-Arbeiten eine wichtige Rolle sowie eine Installation, also ein Kunstwerk aus verschiedenen Teilen, die im Raum angeordnet sind.
Zu Beginn der Ausstellung durchquert man einen rot leuchtenden Raum. Dann geht man an einer Wand vorbei. Auf dieser Wand sieht man Graffitis und den Schriftzug "Guaymallén". Außerdem gibt es dort tanzende Figuren, undeutliche Gesichter und eine Fahne mit den Namen von Musikgruppen und politischen Botschaften.
Am Ende der Ausstellung gibt es 2 Kammern, die an Kapellen erinnern. Auch hier sollen die Besucher*innen wie bei einem Gottesdienst in Ruhe nachdenken. Die Kunstwerke in den Kammern erzählen von Jungfrauen, göttlichen Taten und von Frauen, die für ihren Glauben grausam sterben mussten. La Chola stellt das alles aber nicht aus der Sicht eines Opfers dar, sondern sie erzählt selbstbewusst und rebellisch. So bekämpft sie den Schmerz aufgrund vergangener Ungerechtigkeiten.
Was will die Künstlerin mit dieser Ausstellung ausdrücken?
Der Titel der Ausstellung ist gleichzeitig der Name von La Cholas Geburtsort. Damit erinnert La Chola an ihre Herkunft und ihre Jugend als indigene und nicht-binäre Person. Nicht-binäre Personen ordnen sich weder dem weiblichen noch dem männlichen Geschlecht zu.
La Chola ist heute Mitglied des queeren Kollektivs "Comparsa Drag". Das ist eine Gemeinschaft von Menschen, die verschiedene Sexualitäten ausleben.
La Chola verbindet ihre eigene Lebensgeschichte mit der Geschichte ihres Landes. Kolonialmächte haben Amerika ab dem 15. Jahrhundert überfallen und nur noch christliche Religionen erlaubt. Die neuen führenden Herrschafts-Strukturen vernichteten die indigenen Völker und Kulturen in Amerika brutal und sorgten dafür, dass es noch heute Vorurteile gegen sie gibt.
La Chola thematisiert auch die Rollen von Frauen, Transvestiten und Transsexuellen in der Geschichte. Transvestiten tragen als Mann Frauenkleider oder als Frau typische Männerkleidung. Transsexuelle Menschen können sich mit ihrem ursprünglichen Geschlecht nicht identifizieren und möchten ihren Körper dem anderen Geschlecht angleichen.
Die verschiedenen Formen von Weiblichkeit und Männlichkeit wurden in den religiösen und unterdrückerischen Machtstrukturen verfolgt, ausgeschlossen und ermordet.
Außerdem beschäftigt sich La Chola mit der Verbindung von Kunsteinrichtungen und den aktuellen Machtstrukturen. Sie vergleicht die Rolle der Museen heute mit der Rolle der Kirchen in der Vergangenheit. La Cholas Kunst ist manchmal brutal und manchmal voll bitterbösem Humor. So macht sie uns deutlich: Wir müssen auch heute immer aufpassen, dass wir nicht unkritisch den Erzählungen von weißen, unterdrückerischen Herrschern folgen.
Die bisherigen Ausstellungen der Künstlerin
La Chola Pobletes Werke waren bereits in Einzel- und Gruppenausstellungen in Lateinamerika und Europa zu sehen, zum Beispiel in der Ausstellung "34 Argentine Artists" im Museo Moderno de Buenos Aires (2021) in Argentinien, in der Kunsthalle Lissabon (2023) und im Centro Internacional Das Artes Jose de Guimaraes (2022) in Portugal sowie im MAC im spanischen Córdoba (2019).
Das Museo de Arte Moderno de Buenos Aires in Argentinien hat im Jahr 2022 eine große Einzelausstellung von La Chola mit dem Titel "Ejercicios del llanto" gezeigt. Das ist Spanisch und bedeutet "Übungen im Weinen". Die Direktorin dieses Museums, Victoria Noorthoorn, hat die Kunstwerke für die Ausstellung im Museo de Arte Moderno de Buenos Aires zusammengestellt. Außerdem gehört Victoria Noorthoorn mit Hou Hanru und Udo Kittelmann zum Deutsche Bank Global Art Advisory Council. Diese Gruppe von Kunst-Expert*innen hat vorgeschlagen, La Chola mit dem Preis "Artist of the Year 2023" auszuzeichnen.
_______________
Der Text in Einfacher Sprache ist von capito Berlin. 3 Personen aus unterschiedlichen Zielgruppen haben die Verständlichkeit geprüft.
Since 2010, Deutsche Bank has presented an annual award to an artist, thus offering a platform for new, global positions in current art. The work of the "Artist of the Year" should be of social and artistic relevance and should develop new perspectives on the present. The award encompasses a tailor-made package includes an exhibition, a catalogue, and purchases for the corporate collection. Nominations for thr prize are proposed by Deutsche Banks's Global Art Advisory Council, consisting of the curators Hou Hanru, Udo Kittelmann and Victoria Noorthoorn.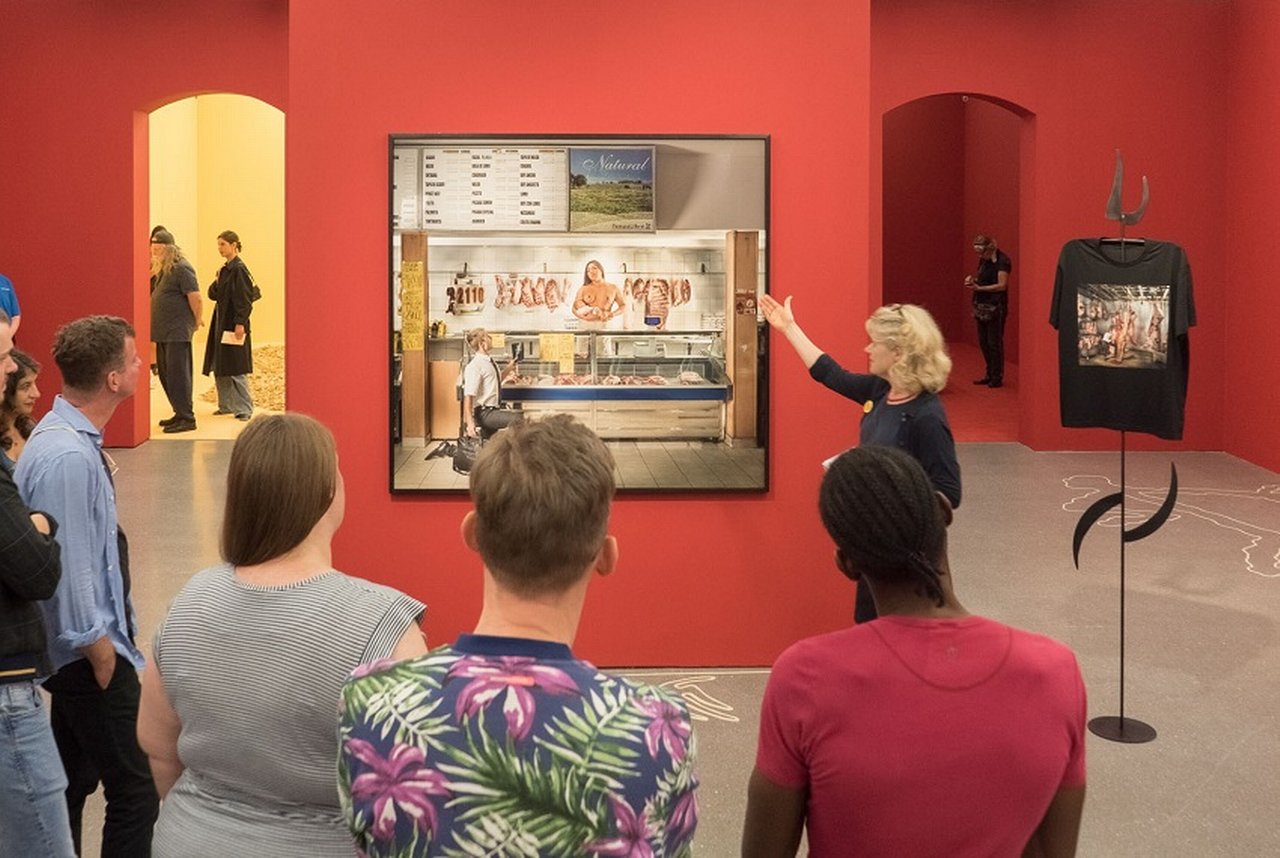 FreeTour
Saturday, 3 pm (in English)
Sunday, 3 pm (in German)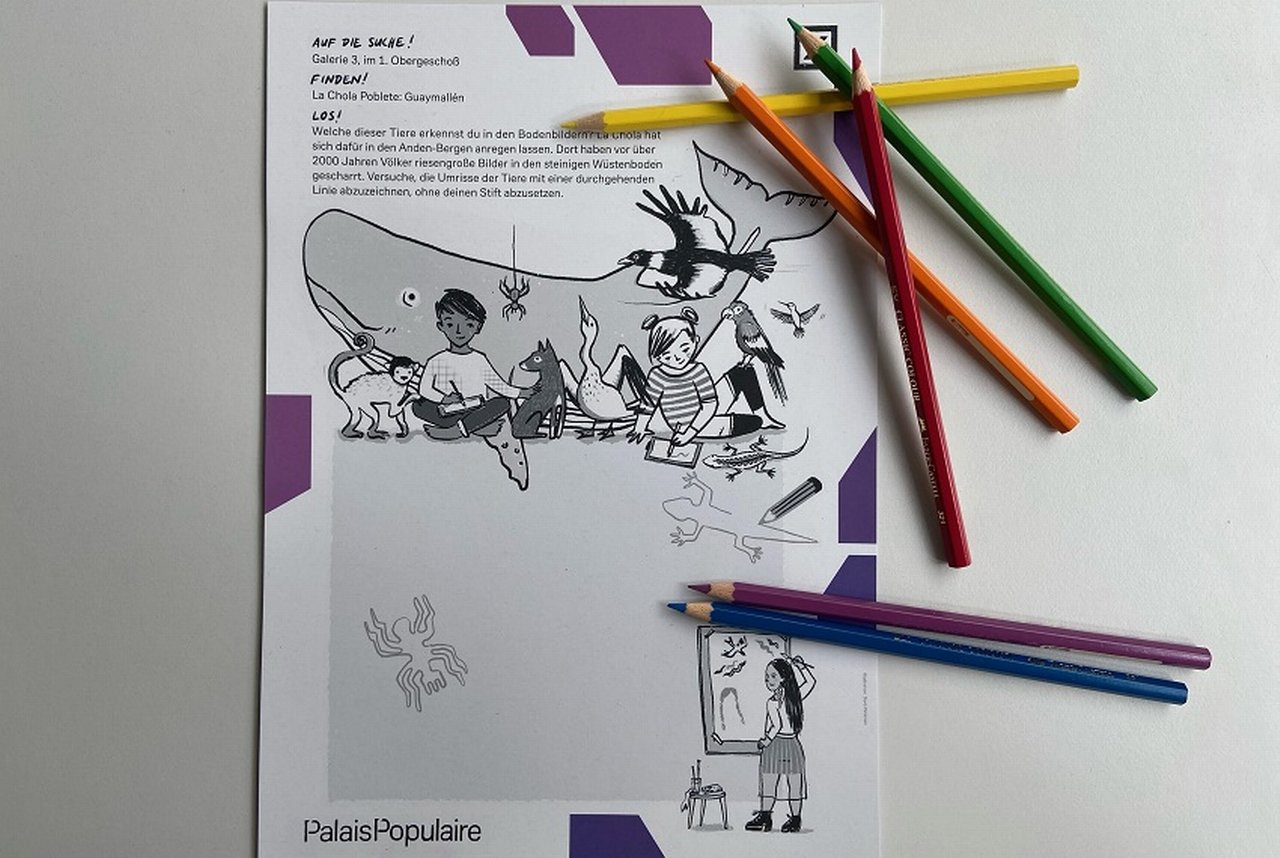 Activity Cards for our youngest guests!
Discover artworks of the exhibition La Chola Poblete: Guaymallén by drawing and painting! Ask for the Activity Card at the museum counter or print at home:
Activity Card