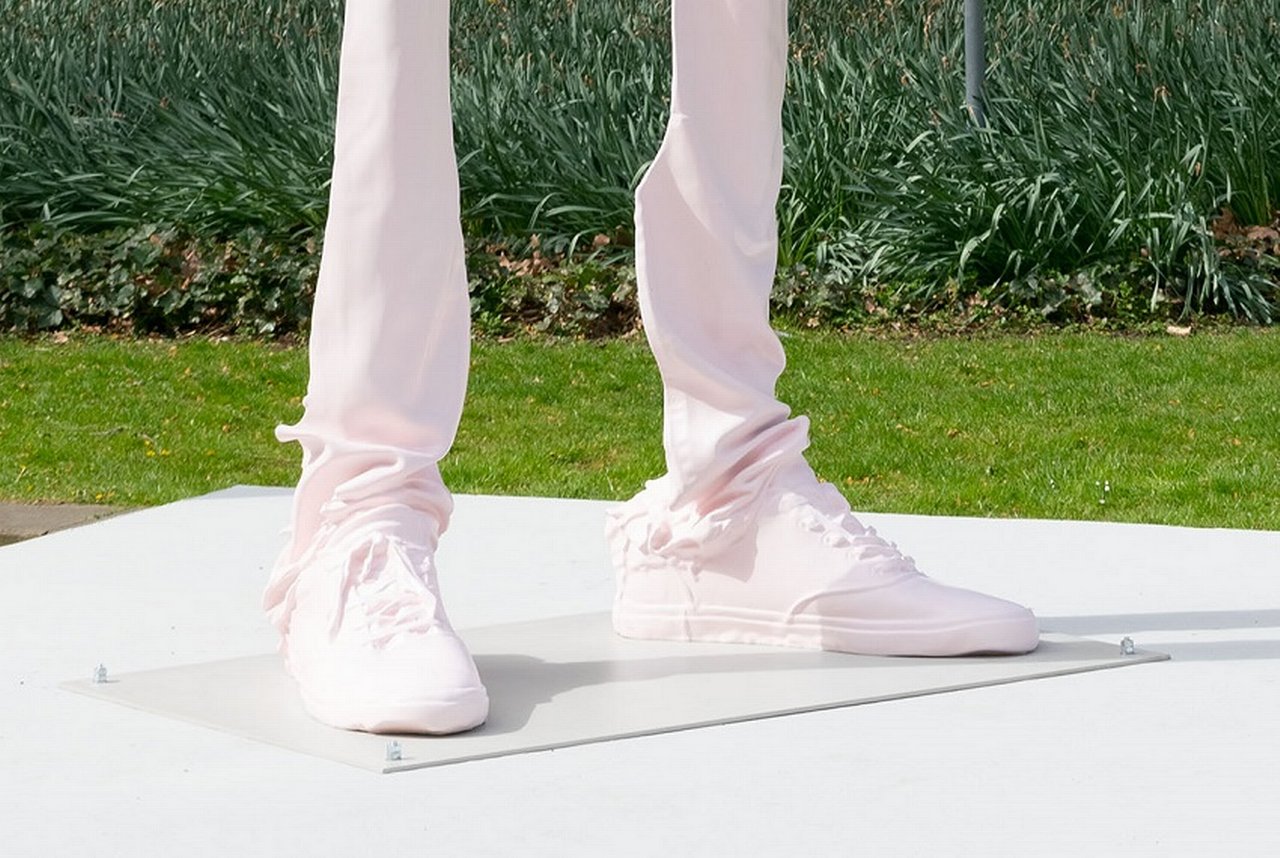 Erwin Wurm "Tor (Skins)"
The artist Erwin Wurm turns the rules of sculpture on their head. Wurm's performative and ephemeral sculptures are conquering museums, where visitors can make themselves into sculptures with a few banal objects. For all the comedy and punch, it's about formal questions: What is the object? What is the subject? Wurm experiments with two- and three-dimensionality, with mass, surface, and volume. More iconic works emerged, such as the "fat" cars and single-family houses that look as if they have been blown up.
In his most recent sculptures from the series Skins (2021), one of which is now being presented in front of the PalaisPopulaire as part of SculpturePopulaire, Wurm takes the opposite approach. He radically reduces the volume. His works, which are almost four meters high, look like suit bags or skins from which the bodies have been sucked out. The filigree, fragile-looking sculptures consist of partial casts of living models who bend over, lift, and hold objects. The artist's relationship to his models is crucial here. In the case of Skins, they include Michael, the artist's son, and the actor and artist Lars Eidinger, with whom Wurm has worked closely for a long time.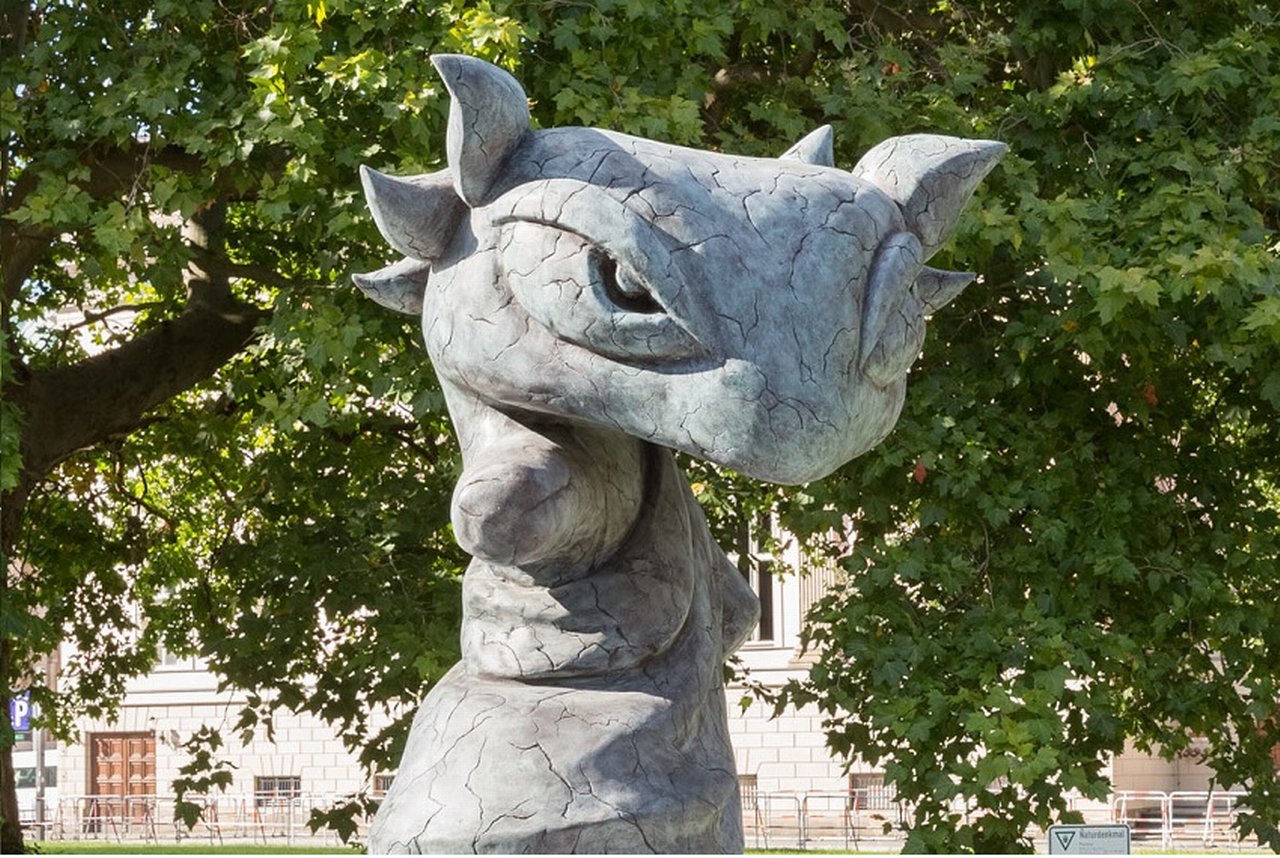 Bunny Rogers "Techo Statue (turquoise)"
Bunny Rogers, born in Houston in 1990, was socialized with the Internet. She grew up in the late 1990s with online communities such as AOL Kids and Second Life, and on the platform Neopets she designed digital figures for the virtual planet Neopia, which is inhabited by Neopets and other creatures. Her enigmatic sculptures, installations, paintings, performances, and videos made her a shooting star of the young U.S. scene. In them, she conjures up a traumatic teen cosmos that penetrates deep into America's psyche and social reality.
Her bronze-cast Techo Statue (turquoise), 2021, which will be presented in front of the PalaisPopulaire, was created from Roger's early designs and ties in to a sense of community and the utopian idea of building new worlds. Yet this work also has the gothic appeal so typical of Rogers, with figures reminiscent of ancient gargoyles.
---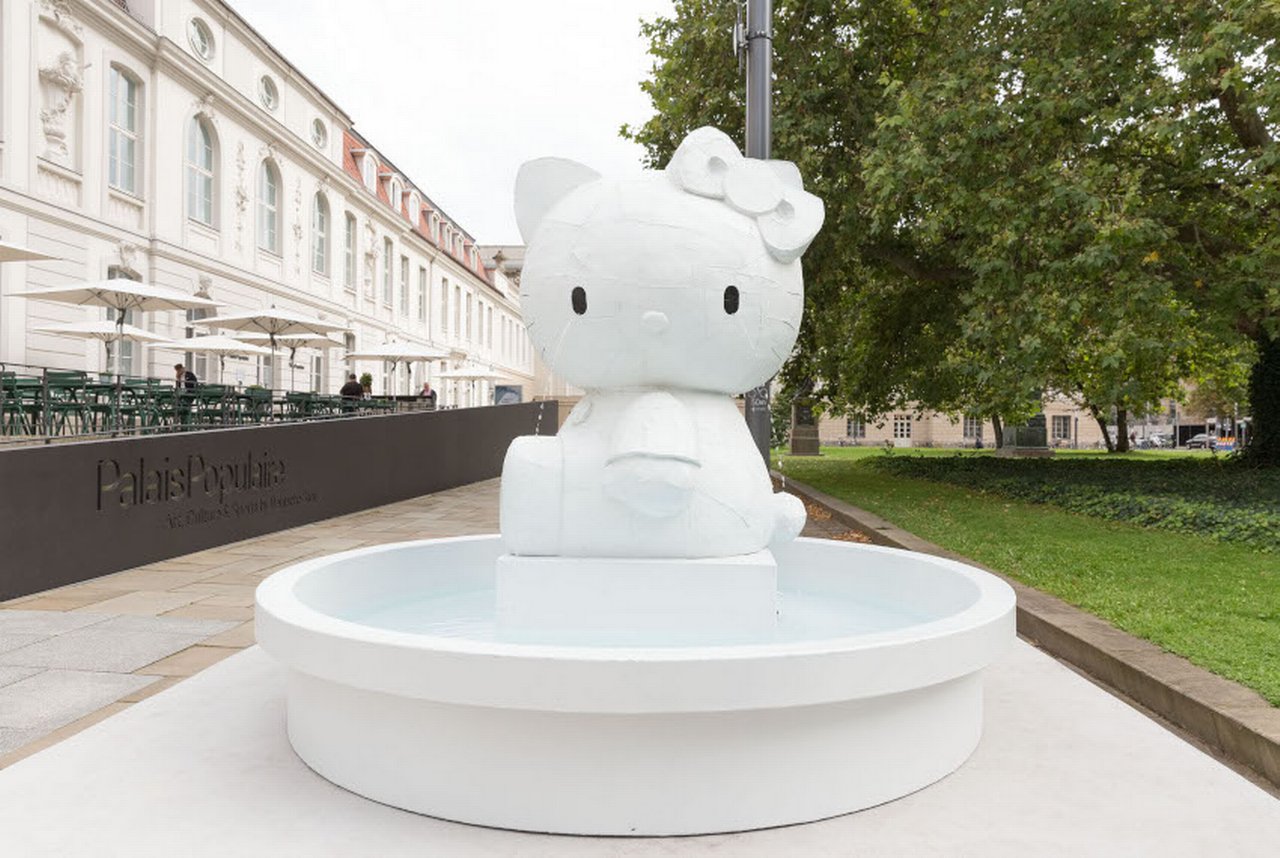 Tom Sachs "Kitty Fountain"
Tom Sachs' three-meter-high Kitty Fountain, cast in bronze, was created in 2008 and was originally part of the monumental sculpture ensemble The Codependent Fountain Tableau. This group of fountain sculptures was installed in the Noguchi Gardens of New York's Lever House in 2008 and shown in the same year in an exhibition on Place du Trocadéro overlooking the Eiffel Tower in Paris.
For the ensemble, Sachs brought together the iconic children's characters "Hello Kitty" and "My Melody," both launched by the Japanese company Sanrio in 1974, with "Miffy," a small rabbit designed by Dutch author and graphic designer Dick Bruna in 1955. All three characters are mass marketed as merchandising products and are characterized by strong graphic stylization, running counter to the idea of a detailed, classical sculpture.
"Kitty Fountain was invented purely as a merchandising and licensed character," Sachs said in 2008. "To then redo that in a 'fine' material like bronze, I think is really to the point."
---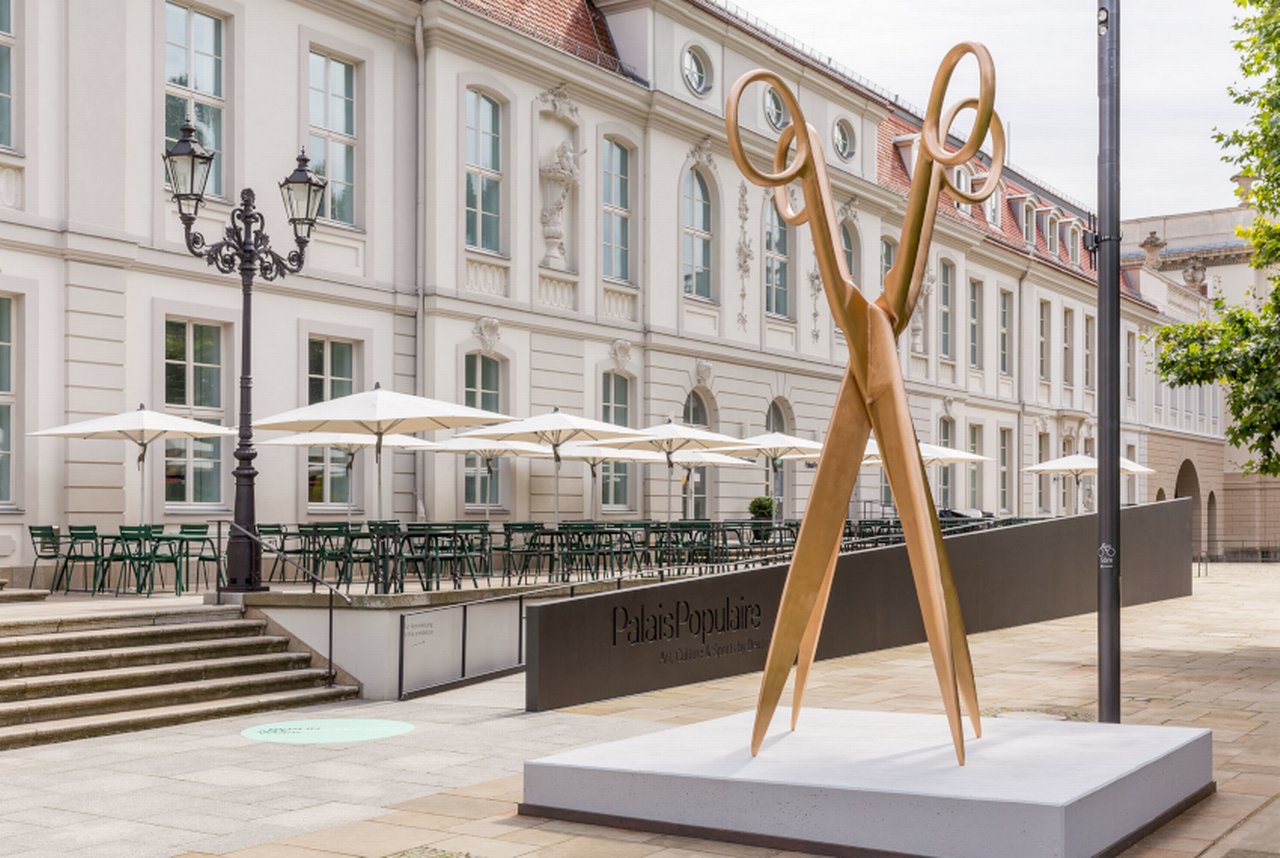 VALIE EXPORT "Die Doppelgängerin"
From September 2020, the sculpture Die Doppelgängerin (2010/20) by the Austrian filmmaker, media and performance artist VALIE EXPORT was on view in front of the PalaisPopulaire. Two gigantic scissors are interlocked to form a figure that is both delicate and threatening. The work, which is over four meters high, triggers myriad associations. Traditionally, scissors are associated with sewing, tailoring, and other "feminine" spheres, but also with the male fear of castration and violence with "female" connotations.
Born in 1940, VALIE EXPORT is one of the pioneers of the feminist avant-garde and conceptual media, performance art, and film art. One of the leading representatives of the "European Expanded Cinema" movement, she attempted back in the 1960s to radically push the boundaries of conventional cinema. Time and time again, the artist, born in 1940, has addressed discrimination against women and violence directed against females with hotly debated actions and works such as her famous Tapp- und Tastkino (Tap and Touch Cinema, 1968).
---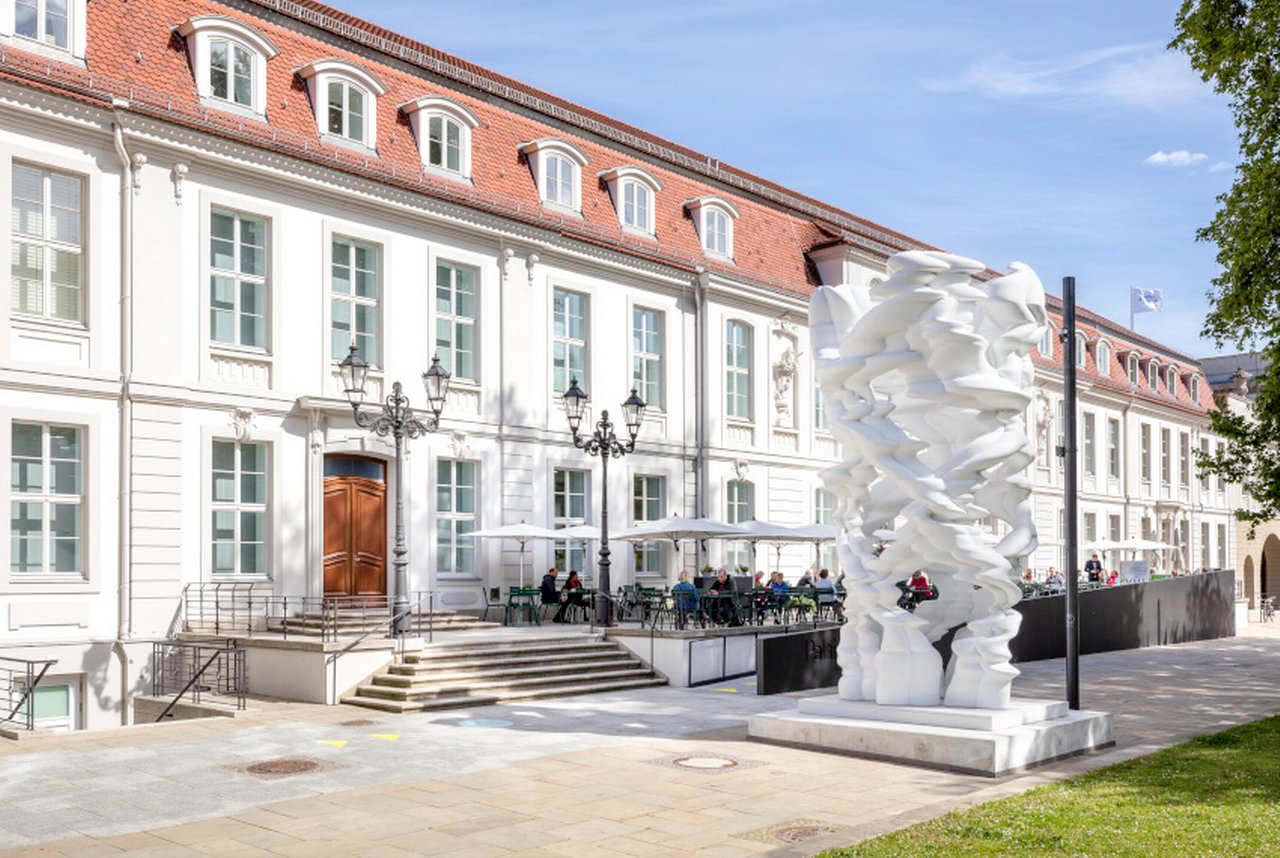 Tony Cragg "Runner"
Continual change is a constant in the work of Tony Cragg. Almost no other sculptor has given bronze, high-grade steel, stone, and plastic such dynamic elegance. So far, he has received the Turner Prize and the Praemium Imperiale for his work. His almost six-meter-high sculpture Runner (2017) was installed in front of the PalaisPopulaire in Berlin in April 2019.
The sculptor, who was born in Liverpool and has lived in Wuppertal since 1977, is one of the key artists in the Deutsche Bank Collection. At an early stage, the bank collected many of Cragg's works on paper. His monumental sculpture Secretions (1998), composed of thousands of dice, has a prominent place at Deutsche Bank's London headquarters.
---